Whiplash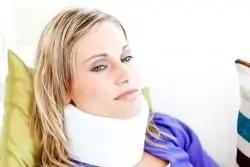 Our chiropractors, here at Advanced Chiropractic Group, can treat your whiplash without surgery, invasive procedures or drugs. Dr. Hergenroether, Dr. York and Dr. Cochran are well-versed in treating neck injuries from car accidents, contact sports and accidental injuries.
Causes of Whiplash
Whiplash most commonly occurs in car accidents where the driver is rear-ended. The impact from behind causes the head and neck to be jerked between the headrest and seat belt, which causes significant trauma to the vertebrae and soft tissues. In addition to car accidents, whiplash can also occur during contact sports or when the head is impacted by an object.
Whiplash Injuries
Whiplash sprains the ligaments and tendons in the neck and strains the muscles. It also alters or completely removes the curvature in the cervical vertebrae. The resulting damage can put pressure on the nerve roots, complicating the injury and increasing the severity of the symptoms. If the nerve roots are significantly compressed, the individual may feel numbness or tingling in their arms.
Symptoms of Whiplash
Whiplash causes severe headaches, neck pain, neck stiffness, blurry vision, dizziness and nausea. It can even cause difficulty concentrating. Unfortunately, by the time these symptoms make an appearance, the individual has often forgotten how they hurt their neck. This is why our chiropractors, here at Advanced Chiropractic Group, recommend scheduling an evaluation as soon as you experience a potential neck injury.
Whiplash Treatment with our Chiropractors in Santa Barbara
Our chiropractors in Santa Barbara employ a variety of holistic treatments for the healing of severe neck injuries, including chiropractic adjustments, massage therapy and cold laser therapy.
Chiropractic Adjustments
Chiropractic adjustments are essential for treating whiplash. They help realign the cervical vertebrae, reduce inflammation and help take the pressure off the nerve roots, which lowers pain and starts the healing process. We offer manual adjustments and instrument adjusting. Manual adjustments are performed with our chiropractor's hands and involve the application of a short, quick thrust to reposition the vertebra.
Instrument adjusting is performed using a small hand held device that delivers a precise force to a specific area in order to realign the vertebra. Many individuals find instruments adjustments more comfortable than manual adjustments. Instrument adjustments at our chiropractic office can be performed with the Impulse Adjustor or the Activator.
Massage Therapy
Massage therapy eases muscle pain. It helps improve flexibility in the muscles, and it increases blood flow while promoting mental and physical relaxation. If massage is utilized before a chiropractic adjustment, it can make the adjustment last longer.
Cold Laser Therapy
Cold laser therapy speeds the healing process by stimulating cellular regeneration. Laser therapy also reduces inflammation and can provide short term pain relief. For more information, see our page on Cold Laser Therapy.
Additional Treatments
We may prescribe ice and heat to lower inflammation and stimulate the healing process. Certain exercises and stretches may also be beneficial in restoring strength and mobility to your neck.
To schedule an appointment with one of our chiropractors in Santa Barbara, call our chiropractic office at (805) 681-7322.